Automotive Locksmith
Car or automotive locks have, over the years, become increasingly secure. However, the added security has accompanied the fact that even legitimate owners can't get in if they don't have the keys. Also, electronic systems built into the vehicle aren't easily bypassed. That's why if you get locked out, you need an expert automotive locksmith like us.
The Most Experienced Automotive Locksmith Services
We have been working with automotive locks for over a decade. Our locksmiths can bypass any car lock, install a new car lock or fix existing locks. Regardless of what you need, our full spectrum of services can help you.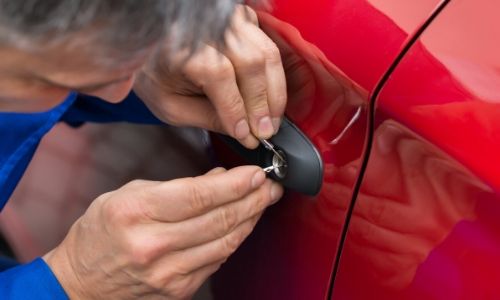 Leading Auto Lockouts Experts
Getting locked out of your car or truck can be frustrating. It can be particularly frustrating if it is in the middle of the night. Fortunately, whether you've lost the keys or have them locked in the car, we can help you. We will arrive at your location within minutes, ready to open the door and get you on your way in no time.
Car Key Replacement Made Quick and Simple
Replacing the car keys can be an excellent way to secure a recently purchased used vehicle. Leave it up to our automotive locksmiths to fabricate a new set of keys and even install a new lock if required.
We Rekey Car Locks of All Types
You can further secure your automotive locks by getting them rekeyed. Rekeying can be a complicated process depending on the car you own, but we can handle it. Our team has rekeyed high-tech car locks before for all major brands of vehicles so you can leave it to us to handle the rest.
All you need is to call, and our automotive locksmith will be there in no time to help you.